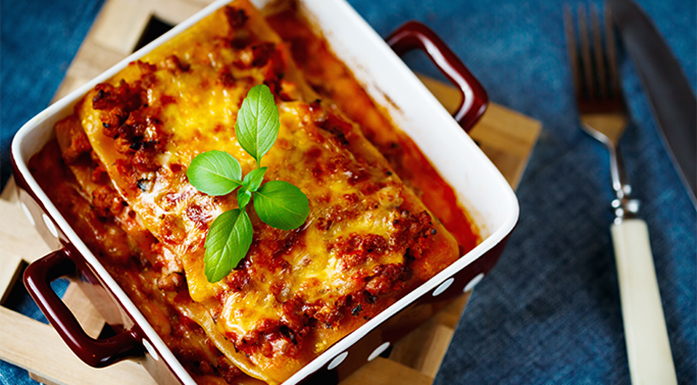 LASAGNE

Enough for a standard baking pan

For the dough
½ Kg. Of type "00″ flour
4 eggs
Oil (about a tablespoon)

Preparation of Lasagna:
Pile the flour in a heap and mix in the eggs, oil and salt. Knead until you have a smooth dough. Let the dough rest wrapped in plastic wrap.
Ragout:
 pork loin 250 gr
 beef 250 gr
1 o 2 Sausages
 salt to taste
Oil
Rosemary
Carrot, onion, celery
Tomato concentrate Milk
Sauté the chopped onion, celery and carrot in oil, add the meant cut into chunks or already ground. Allow the meat to brown. Sprinkle with red or white wine (to taste). Then add enough water to cover the meat. Add salt and rosemary and cook for at least 3 hours.
*Grind the meat and add the tomato concentrate, mix well, add a little milk to take away the acidity of the tomatos. The final ragout should not be too dry.
Bechamel:
1 lt. of milk
 100 gr. of butter
80 gr. flour
 Heat milk (do not boil). In another pan melt the butter, stirring with a whisk, slowly add flour and hot milk. Mix well to remove any lumps. It must thicken until it becomes a smooth paste. Then add salt and nutmeg.
Roll out the pasta dough. Cut into rectangles and cook them in boiling salted water, with a little oil, for a few minutes. Drain on a kitchen towel. Put a little ragout in the bottom of the baking dish. Cover with pasta, then another layer of ragout, one of bechamel and Parmesan cheese. Proceed in this manner for 3 or 4 layers, ending with Parmesan cheese. Bake for 20/30 minutes.