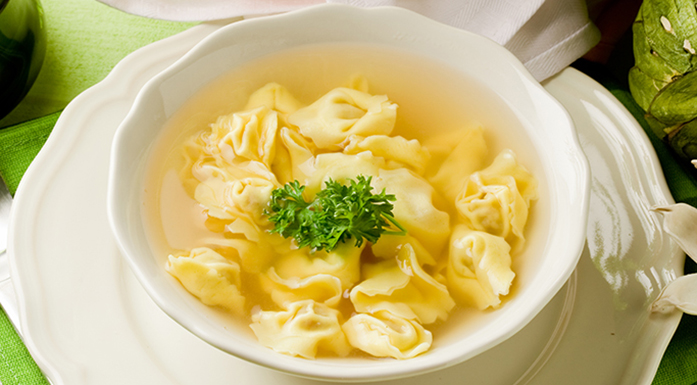 CAPPELLETTI

For the dough
½ Kg. of type "00″ flour
4 eggs
Oil (a tablespoon)
Salt (to taste)
Preparing Cappelletti:
For the dough
Pile the flour in a heap and mix in the eggs, oil and salt. Knead until you have a smooth dough. Let the dough rest wrapped in plastic wrap.
Filling for the Cappelletti
300 grams of Pork Loin
300 gr. Beef
1 Sausage
Parmigiano Reggiano B
readcrumbs
Egg
Salt
Nutmeg, Cloves
Oil Onion, celery and carrots
Sauté the onions in oil, add the meat cut into small pieces and brown well. Deglaze the pan with white or red wine, add enough water to cover all the meat. Add carrot, celery, salt and cloves (1 or 2).
Leave the meat to cook for about 3 hours. Once cooked, the meat should not be too dry. Remove the meat from the sauce, allow to cool and chop finely. Put in a separate container. Take the bread crumbs and add them to the sauce in which the meat has been cooked. Then add the breadcrumbs to the chopped meat, the egg (to bind the dough) and abundant Parmesan cheese.
Mix everything together very well to create a homogenous filling.
Roll out the pastry quite thin and cut into squares. Put in a bit of the filling in the center of each square and fold the sides over to form a triangle. Close securely and roll them on a finger to give then the form of a little hat.
Cook in plenty of meat stock.